Uniform/Dress Code Policy
Uniform/Dress Code Policy
Here are some examples of acceptable shoes that adhere to the uniform policy. (Click Here)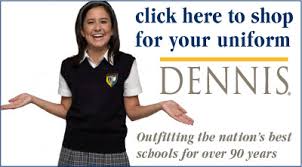 St. Patrick School contracts with Dennis Uniform Company. Our school code is GPTKV.
Dennis Uniforms can be purchased at their Chicago store. You can also purchase your child's
uniform online. Simply click on the Dennis logo above to begin shopping online.
Please know, St. Patrick School has size samples to try-on in order to make your online
shopping a bit easier. Please see the links to the right.